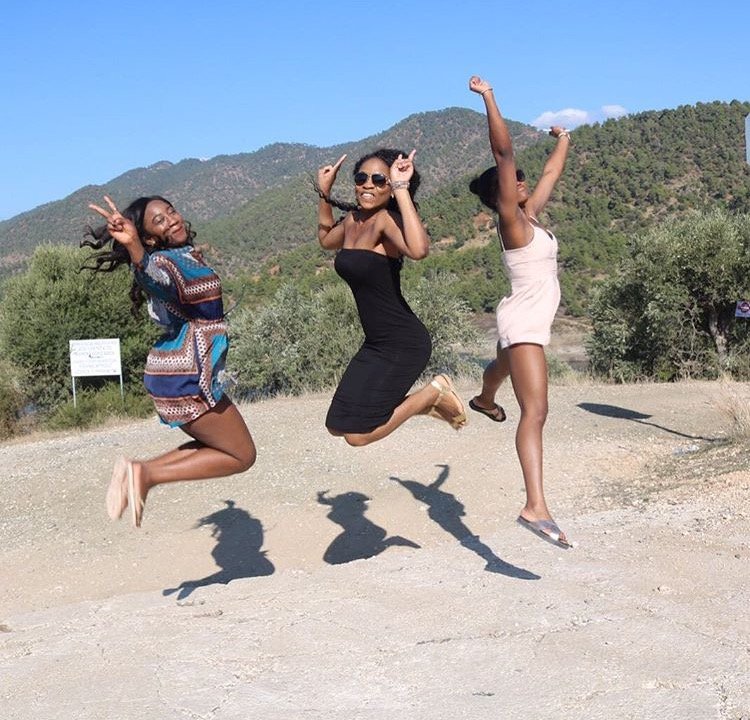 Layo & Sikemi: Weekend Getaway to Paphos, Cyprus.
It was my friend Layo's birthday and as usual we decided to embark on a trip to Paphos, Cyprus. We started making reservations about 2 months before so we could secure everyone's visas being ready. 
Day 1- Layo:  My actual birthday was a stressful one as we did not sleep because we had to catch a 3-hour train to the airport and it was also a morning flight. The flight was so uncomfortable I couldn't even sleep properly, but after the long night I just had, there was nothing coming in the way of my sleep. So after another 3 hours and a bit we were finally in Paphos city!
That evening was actually so funny because when we got there initially, it just looked like we had been thrown on to a deserted Island. Everywhere seemed to be closed, but we were so hungry that we didn't even care, so we just went to the KFC near our hotel, that soon became our usual hangout haha. We sat down there for about an hour trying to look for a shisha lounge, club, bar, anything! But they were all closed, far or just dead.
So we decided to just leave and have our own mini house party in the hotel. So we got our drinks and went back to the hotel and started blasting our own music…. Of course the party was short-lived because the receptionist kept calling us with complaints lol
DAY 2-Sikemi- Paphos, is so beautiful, we woke up at about 8am after going to bed really late because we had to go parasailing. Note: we made an itinerary before we left for each day and contacted all the places and activities we needed to do
As usual when travelling with a group it is only normal for you to embark on an Israelite journey looking for people. After all the early rise, we still spent time on the road looking for each other because we all got lost. I still do not know how considering we were walking together. We actually walked in twos because we were six so to think we could all loose each other was really ridiculous. My friend and I decided to wait at the bus station and spent time taking pictures.
Layo: Instead of my friend and I to concentrate on looking for the others we got distracted by the scenery and had to stop to take pictures.So when we were done taking the pictures and we realised that we were still lost, we tried to look for the rest for some time, then afterwards we just started getting frustrated because no one actually told us were they were going , my friend Laiqah was even hyping me like, isn't it even my birthday aren't they supposed to be looking for me, anyway long story cut short when we found them we were already telling each other give them a straight a face but we even found out we were somewhat at fault lol, but anyway when we finished our mini argument we decided to dip and make a quick stop at kfc before our long journey.
Sikemi: We finally reunited and started our journey again to LOOK for the parasailing stand. Since we were with a group of adventurers we walked to the place from the hotel using a map and guess what we didn't get lost. Great!
Parasailing was amazing and I would definitely do it again. For the first time in my life I actually wasn't afraid one bit. I guess that's part of the fun travelling brings right !. We then we had a photo-shoot session. Oh boy, if you need models I have them plenty.
Layo: I actually soon got tired of taking pictures and just wanted to go home and get some rest. We had been waking up so early and doing a lot of walking, isn't a vacation supposed to be relaxing? I thought, but when everybody was ready we were off to the hotel.
Sikemi: After parasailing we walked back to the bus station and as usual my wonderful phone died, so I decided to charge it. Being Mrs organized and "Event Planner" as they call me I walked out to check for the bus so we don't miss it and yeah lo and behold the bus was there. Immediately I hopped on the bus and they all got in . 10 mins into the bus ride I realized that something was missing and everyone was using their phones. But I didn't care because when I travel I just try to soak myself into the environment and take it all in. Then I realized my phone was missing and remembered I left it on charge at the bus station. Immediately, my friend just shouted "Don't Panic". I rushed straight to the bus driver and told him to open the door. My friends don't really take me seriously because in quote I am a joker so they didn't believe till I stepped out. To cut the long story short I went back to the bus station and they had kept it for me. I was surprised, it really made me realize that there are still a lot of good people out there.
Layo: After parasailing we had to go back to the hotel to prepare for my birthday dinner, but first we needed to take more pictures. We got ready and headed off to Oliveto Stonegrill restaurant, which was actually this lovely restaurant just right beside our hotel luckily the location was so convenient, ambience on point, I felt like a birthday princess but funny enough the only thing that concerned us once we got there was their fast and stable wifi connection, in other words, our eyes were glued to our phones.
Day 3-  Sikemi: We booked a tour ride before we left England. It involved a tour round Paphos which started with a drive through a few typical Cypriot villages which are known for cloth weaving , a pretty monastery and a visit to the wine region where we learned how to make Cypriot wine and then went for wine tasting which was amazing, the ambience of the place!
In the afternoon we stopped for lunch at a beautiful restaurant with an amazing view and went to visit the Baths of Aphrodite where Aphrodite's used to bathe. Cypriot cuisine is mainly made up of Lamb and Fish because they are an island in the Mediterranean. They are very similar to the Greeks.
Lecture 101: Aphrodite's is the Goddess of love and Beauty. She is also the daughter of Zeus. Although it's a myth, once you touch the water you look 10 times younger. My friends transformed immediately. I reckon you try it.
Cypriots are actually very nice people, they were actually treating us like celebrities, few people actually stopped us to take pictures with us, I don't know if it was because we just looked different from their usual spec but they taught we were 'models' they said…
Key Facts About Cyprus:  Paphos is a city on the southwest of Cyprus, the Mediterranean island. It is a country in Europe and is very close to Asia that t is why it shares borders with Turkey. If you are the clubbing type Paphos isn't good for that, I reckon you go to Ayia Napa. Paphos is the modern city that incorporates the harbor. It's also home to Paphos Archaeological Park, encompassing ancient ruins of tombs- Tombs of the Kings which is a UNESCO World Heritage site, fortresses, theatres and villas. It is a perfect place for a relaxed holiday that involves a lot of water sports.
IF YOU HAPPEN TO PAY A VISIT TO PAPHOS, YOU CAN CONTACT:
NICKS WATER SPORT- Phone Number: 00 35799 603427
ECO TOUR ADVENTURES – Andreas which is the best. Email@info@ecotouradventures.com. Just send a mail and you will get a quick response with tour packages which you can tailor to suit you.