Emmanuel Kayode: Solo Travel-Puerto Escondido, Mexico
I recently made my first mini vacation trip out of the country to a place called Puerto Escondido, which means "hidden port" in Spanish. This name could not have been any more true, this place is very much a hidden gem. Since It was my first time traveling solo, my expectation for this trip was that I'll do a lot of sightseeing and have a lot of alone time. To my surprise and delight, none of these were achieved, which was exactly what made the trip more memorable.
I initially got the idea to travel solo from one of my friends that recently did it (shout out to Teju!) At first I settled on San Jose, Costa Rica for my travel destination. But, as I was attempting to find a good Airbnb, I came across this amazing looking bungalow in a city called Puerto Escondido, Mexico, which I've never heard about. Something was telling me that this was the place for me (plus the bungalow was for a smaller fortune than I would have paid if I went to San Jose). I messaged the owner and thankfully the dates were available for the days that I needed.
Coming off the plane, I noticed a guy who was an English speaker trying to book a taxi and I quickly went over to introduce myself. The guy's name was Tom and he was traveling with his childhood friend named Lucy. They were both traveling from the U.K. and spoke more Spanish than I did. Luckily we were all going to the same area so we agreed to split the taxi with each other. On the way to our lodging we exchanged banter about the American election, Brexit, and the differences and similarities between our two countries. The taxi dropped them off first and we agreed to all meet up in the next hour to get dinner and explore a little bit. This was about 10pm at night. We met up and went to the boardwalk to find a food place. We walked past a place called Palapita Bar and came across a waiter that made all of us laugh with his animated reactions, but we decided that Palapita was not the place for us that night. We ended up at Revolution Bar, which seemed to have a relaxed but lively atmosphere. We ordered our food and continued our discussion on British vs. American culture. We ordered pina coladas. I've never had a pina colada before but this seemed like the best pina colada I'll ever have. We also had some mezcal shots, which is basically the local version of tequila.
The next morning I woke up to my first morning in the town to a beautiful blue sky warm day, in my bungalow overlooking the beach.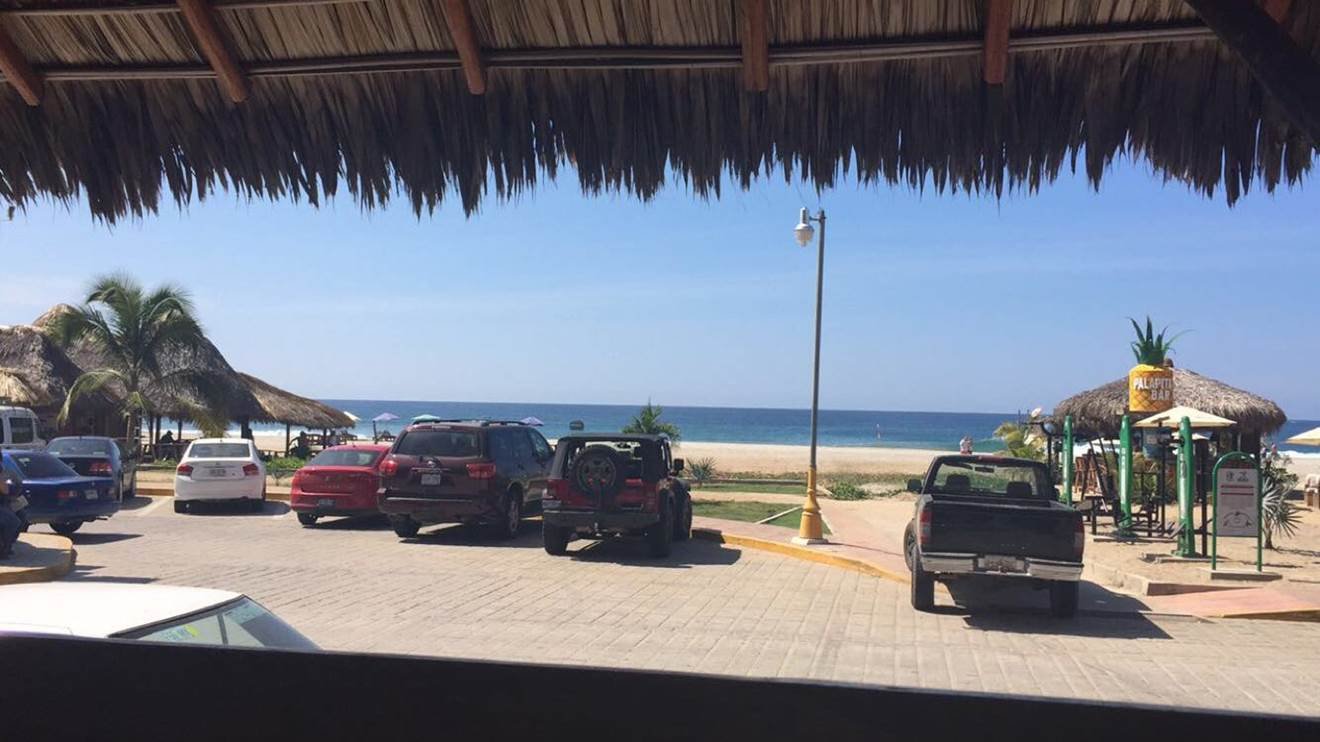 I was a bit hungry, so I went to get breakfast at a hotel called Bungalows Zicatela.
The place was a bit crowded so I had to share the table with a older gentleman. We easily struck up a conversation. He was from Canada. We talked about politics, the different beaches in the area, and sports. Before retiring, the guy worked in finance and I currently work in finance, so we shared a commonality. We talked about the financial crisis and the stock market. His brother later joined us. The brother had been visiting Puerto Escondido for about 20 years and decided to live there permanently since the last 5 years.  I later met many foreigners who had similar stories (visited and decided to stay permanently). They invited me to join them the following day for a game of horseshoes and poker at the beach (their usual hangout spot). After paying my bill, I later went to the main beach, Playa Zicatela, and watched the surfing competition.
Playa Zicatela was very lively with people, music, surfers, photographers, and Monster Energy trucks. I found my way around to an open bench facing the competition. I got a cigar and a coconut to drink.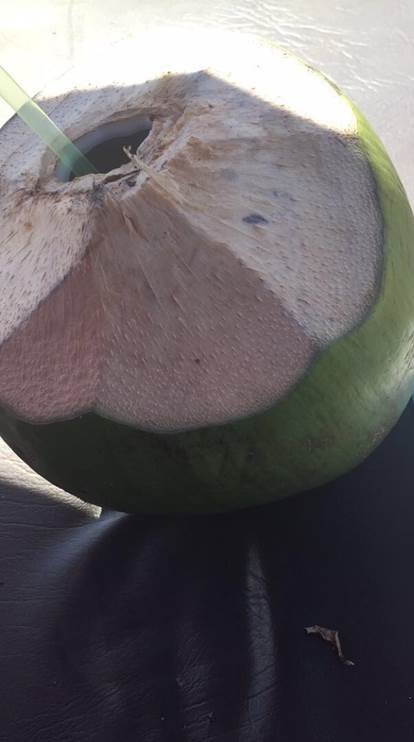 I ended up meeting with Tom and Lucy on the beach for about 30 minutes before heading back to my bungalow to rest for the evening. For the evening, I met back up with Tom and Lucy at Palapita Bar where we met the waiter with the animated reactions on our first night. The night was filled with laughs. The waiter, even though he spoke little English, made us laugh through his actions and reactions. He told us to call him Candy. Laughter continued. We started craving Pina Coladas so we decided to return to Revolution Bar (the same bar from the first night). Revolution Bar was a bit livelier this night than our first night.
We were exhausted from sitting in the beaming sun all day, so we called it quits pretty early and returned to our respective bungalows.
The next day, I got breakfast at El Cafecito. The food there was great! Two local guys came by to entertain the guests by doing a rap in Spanish. I had no idea what the rap was about but I definitely felt the guy's passion. I gave the duo a tip and they gave me a pound. After breakfast, I went to the beach to watch the second day of the surf competition. I was sitting close to the beach in front of Revolution Bar. I met this lady named Terie from Estonia. She was on the beginning of her 6 month travel across Central and South America. We spent the afternoon talking about traveling and our respective countries. After a while, she had to go back to the hostel that she was staying at. We agreed to meet later at her hostel so I can see a different part of the town and meet the people staying at her hostel. After a few wrong turns in the taxi, I arrived at the hostel, 'Puerto Dreams'. This place definitely had a nice vibe. There were cool paintings on the walls. Most of the people staying there were surfers. Everybody was from a different part of the world. We all hung out on the rooftop, laying in hammocks, and listening to music (which went from popular American and UK music to a lot of Shakira and reggaeton). We ended up leaving the hostel around 11:30pm and squeezed about 9 people into two cars. Our first stop was Kabbalah.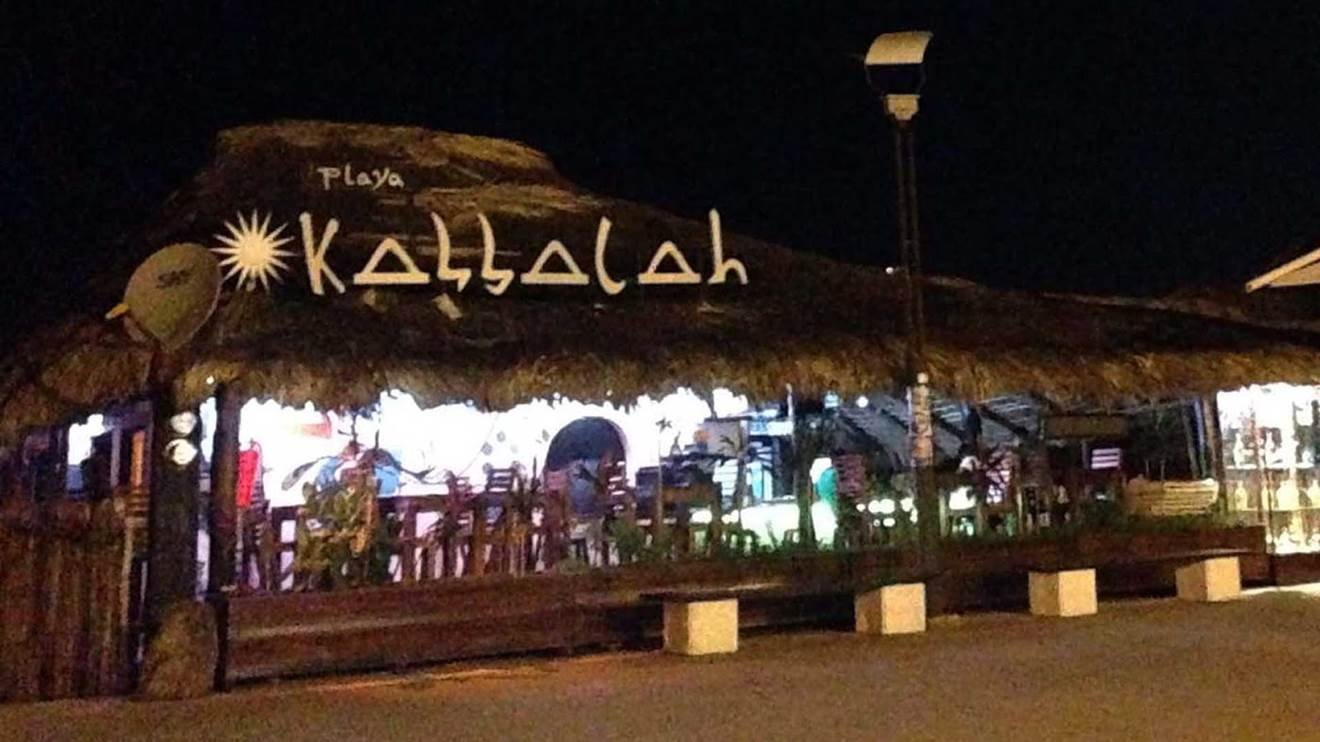 There was a live Spanish band playing that evening. It was amazing! They played all traditional Spanish music and, to my surprise, they played one of my favorite Spanish songs called 'Suavemente'. People were drinking, chatting and dancing salsa. I did my best salsa impression, which was very Nigerian influenced. The atmosphere was very buoyant. We had a shot of mescal and a Corona. After about an hour and a half we left to go to BarFly. BarFly was just as, if not more, buoyant than Kabbalah. The DJ was playing music that was very Eurocentric..I felt like I was in a club in Ibiza or something. It was getting a bit crowded so I went to get some air on the rooftop. There I met a tall skinny guy from London named Dylan, and from my guess he was in his twenties. We talked mostly about UK grime, drill music and traveling. He was on a mini vacation. After Mexico, he was scheduled to go to Los Angeles to meet with his uncle and his uncles friends for about a week. Shortly after meeting Dylan, I met a lady from the Washington DC. She visited Puerto Escondido a few times and decided to move there. In Puerto Escondido, she worked as a masseuse and a vegan chef.
I woke up the following morning and realized that it was my last full day in Puerto Escondido. The sky was breathtaking that morning, it was a perfect blue hue and had little to no cloud. Terie and I decided to meet at Playa Carrizalillo in the afternoon. It was my first time going to this beach.
This beach was beautiful. It was mix of foreigners and locals. It was very much smaller than Playa Zicatela and had a lot calmer waves. I decided to finally get in the water (after being at a beach for the past 3 days…the Nigerian in me finally gave in). The first thing that I noticed was that the water was very salty. This was common knowledge (since it is the ocean) but I'm still a novice at this whole beach thing. After about thirty minute, I ran into Tom and Lucy! We caught up, after not seeing each other the previous day and I introduced them to Terie. We hung out at the beach for another hour. Terie had to go back to the hostel so we left Playa Carrizalillo, it was around 4:30pm. I thought about going back to my bungalow to rest or to go to Playa Zicatela, since I knew that beach better. But, I remembered that it was my last day in Puerto Escondido and I wanted to see as much as possible. I continued my adventure and went to the next beach closest to Playa Carrizalillo. The taxi dropped me off at Puerto Angelito. This beach had a lot more locals than the other beaches. It was almost the same size as Playa Carrizalillo but had a lot more people and fishing boats. Half of the crowd were seated at the restaurants overlooking the beach and the other half were in the water. I got a Corona and sat close to the giant rocks overlooking the water. I took in the great view and admired how happy everybody was. The beach was filled with families, ranging from babies to the elderly. After I finished my Corona, I left Puerto Angelito to go to the next beach, Playa Manzanillo.
This was definitely my favorite one. Out of all the beaches that I went to, this was probably the smallest. It was a mix of locals and foreigners. The time was around 5:30pm and I still had a few hours of sunlight left. I got a Victoria beer and a cigar. The weather was perfect ..and for those few hours life seemed perfect. I got into the water a few times, but just on the shoreline. Some fishes swam between my legs. One of the local guys there, named Daniel, came up to me while I was in the water and asked me why I didn't swim. I replied that I couldn't swim. He told me that he was a surfing instructor and that some of his family member had recently traveled to Chicago. We chatted and laughed for a little bit then parted ways. I stayed at the beach side until darkness consumed the beach.
I roamed through the streets until I could find my way to the main road. At this moment, I felt a little like Anthony Bourdain. I went back to my bungalow and relaxed for about an hour. Being that it was my last night, I decided to treated myself, so I went to eat dinner at a nice restaurant in Hotel Santa Fe.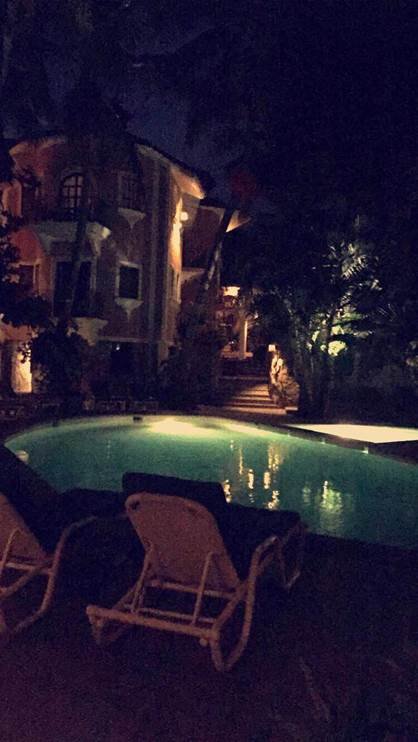 The hotel had a very cool and calm ambience. There were candles leading up to the restaurant and the view, while seated, was overlooked Playa Zicatela. I decided to try clams and mussels for the first time. After the dinner, I met with Terie to catch up on our respective evenings. We were walking on the main strip and ran into her hostel mates at a small middle eastern restaurant. They were all sitting at a big table in the restaurant so we joined them. It was about eight of us. There was a guy and girl traveling together, the guy from South Africa and the girl from Switzerland. By this point in their trip, they had started to act like an older married couple. It was fun to watch. There was also a guy from Israel sitting with the group. He kept the table laughing. He was in Puerto Escondido for 10 days and refused to go out to party or stay up late because he had to wake up early in the mornings and surf (apparently the best waves in the ocean come in around 7am). He was adamant about sticking to his schedule. He and I chatted about India for a while (which is my next trip). He had previously spent a year traveling in India. The people from the hostel were a really good community of people. We soon left the restaurant and I said my last goodbyes. There was a rare supermoon out that night. The supermoon was very shinny and hasn't been seen in almost 70 years. This made the moment feel a bit more special. We all stood around for a little bit to enjoy the rare moon.
In this post, I choose to put a lot of emphasis on the characters and my interaction with people on the trip because I believe that the characters are what made the trip very memorable. Everybody was very different in their own regards but shared a common happiness and genuine interest in each other. Something about this place brings out the best in people.
TIPS.
It was a great trip and I would definitely recommend it for somebody looking for a relaxing beach town. Its best to go there from the end of October to beginning the of February. December is the busiest time. All-in-all I would definitely go back.