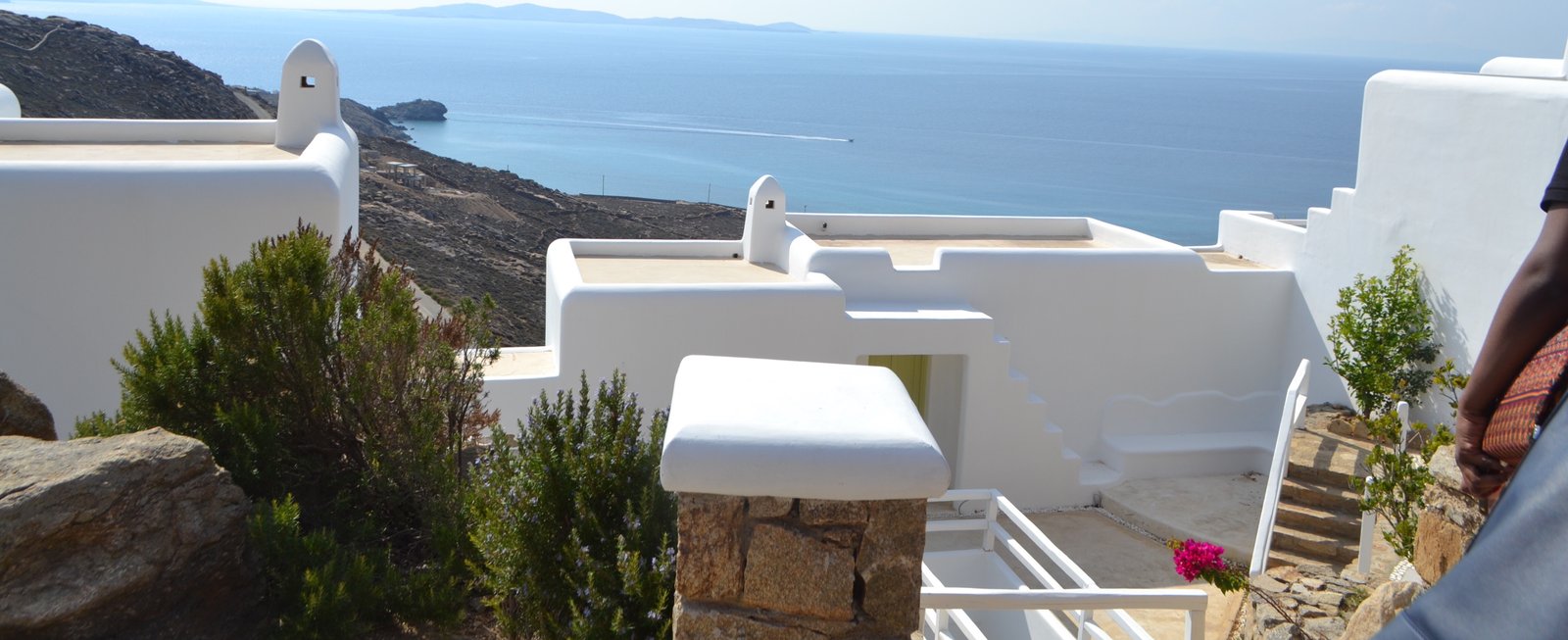 Shide Ugbaje: Paradise in Mykonos, Greece
My friends and I travelled to Mykonos, Greece for our friends' birthday. The beginning of the trip was a bit rocky, from almost missing the flight, to forgotten passports, but the beautiful town of Mykonos made up for it. Since it was our friends' birthday an itinerary was planned for us, which made the trip a lot more organised.
Day one:
Arrived at our villa with the most beautiful scenery, located at the far top of hills on the outskirts of town. A very quiet and airy area, with a breathtaking view of the beautiful blue ocean.
We chose our rooms, freshened up and settled in. After about two hours, our driver arrived to take us to the main town to eat, shop and familiarise ourselves with the all white town and tiny streets.
We had lunch at a restaurant by the sea, and food was great and not too expensive either. After lunch we roamed the town, in search of snacks, drinks and sim cards, browsed through shops like Sephora, Dsquared and other designer shops. After a couple of hours, our driver arrived to take us back to the house to get ready for our night later that evening.
Day two:
We went on a private boat trip to Paradise Beach Resort, which was absolutely amazing and I am sure the pictures speak for themselves.
It was a lots of fun, a day packed with water sports, lazing around, eating and drinking on the beach and specially prepared Greek food on the boat. (cocktails in mykonos are so strong!)
Day Three:
We lazed about all day, went swimming in our pool (insert picture) and prepared for our friends' birthday dinner later in the evening. We had dinner at Nobu and had the best food and cocktails ever. It was an incredible night I would never forget, from singing so loud at dinner and dancing to the songs we sang and then an after party back in the villa, definitely made it an unforgettable night.
Day Four:
Back again at the beach, but this time, a different beach, with more people. We were all so tired from the night before, we were not interested in doing anything but lay in the sun all day. Had lunch at a restaurant on the beach and tried out a burger without buns which was surprisingly really good, we also went souvenir shopping.
After the beach we headed, go karting for a fun competitive sport before we headed home and rounded up the trip perfectly.
And finally, day five; our last day in Mykonos. Woke up early, had breakfast and finalised our packing. Driver arrived on time to take us to the airport, checked in smoothly and boarded our easyjet flight back to London Gatwick.